Radio frequency
131.59 MHz
Hours of operation
0700-2200 (24 hours on request)
Address
Corballis Park, Toberbunny, Dublin, Ireland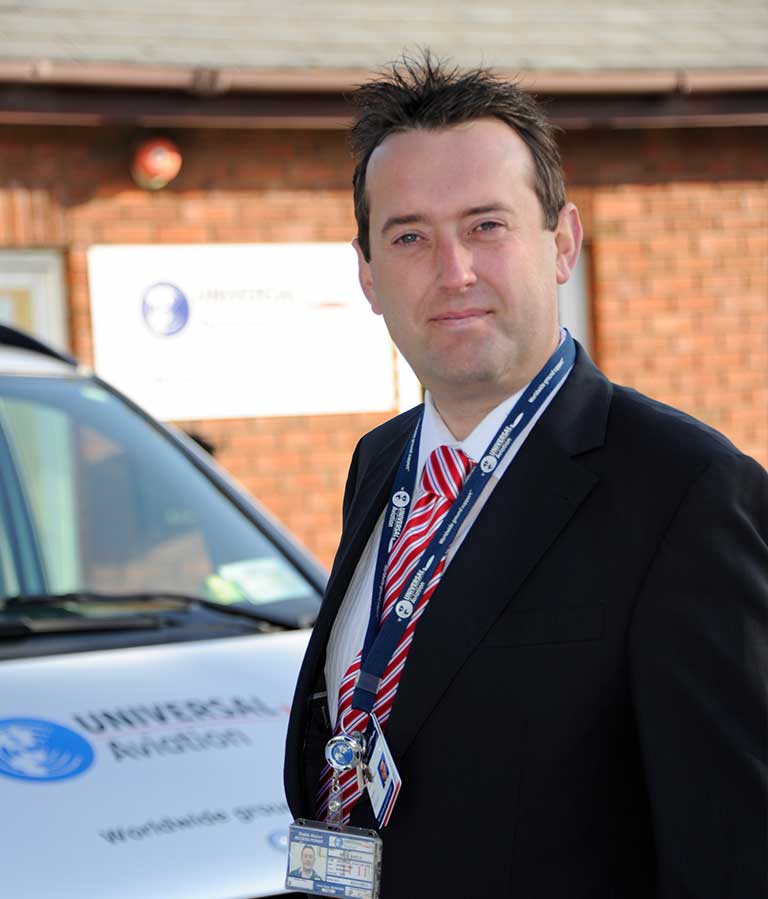 Mark ShielsGeneral Manager
Downloads
Some Great Reasons to Choose Us
We are the only ground handler at Dublin with 24/7 on-call phone support and the ability to send immediate movement messages and other confirmations directly to the operator.
Service is our top priority, with all of our team members fully trained to Universal's rigorous standards for quality, safety, consistency, compliance and customer delight.
Our private facility includes two lounges, WIFI and HDTVs, and a complimentary customer car park.
Services & Amenities for this Location
Featured Services & Amenities
VIP Passenger Lounge
Catering Arrangements
Ground Transportation
All Available Services & Amenities
Flight Plan Filing
Weather Briefings
Permit Coordination
Baggage Handling
Security Arrangements
Crew Hotel Arrangements
Refreshments
Catering Arrangements
Ground Transportation
VIP Passenger Lounge
Crew Lounge
Internet Access
Car Rental
Lav Services
Customs & Immigration
Restrooms
| Attribute | Detail |
| --- | --- |
| Airport Name | Dublin Airport |
| ICAO/IATA | EIDW / DUB |
| Location | Dublin, Ireland |
| LAT / LON | N53°25'16.6800 / W006°16'09.9500 |
| Elevation | 242 ft |
| Magnetic Variation | 003°W |
| Airport of Entry | Yes – AOE |
| Hours of Operation | 24 hours |
| Restrictions | – |
| Fuel Available | JetA |
| Longest Runway | 28/10 (8,652 ft x 148 ft) |
| Approaches | ILS VOR/DME |
| RVSM | Implemented |
| ACAS/TCAS II | Required for turbine engine aircraft with MTOW exceeding 15,000 kg or more than 30 pax seats. |
| ICAO Annex 16, Chapter II | No restrictions |
| RNAV5/RNAV10 airspace | Yes |
| 8.33 MHz channel spacing | Required |
| Fire Category | EIDW: 9 |
| Customs | Yes |
| Slots Required | Yes |
| Tower Frequency | 118.6 |
| Ground Frequency | 121.8 |
| Clearance Frequency | 121.880 |
| ATIS | 124.530 |
Operational Insight Blog » Ireland