Our location is open and fully-operational following Hurricane Fiona.
Radio frequency
130.150 MHz
Languages spoken
Spanish and English
Hours of operation
24-Hours
Address
32000, Dominican Republic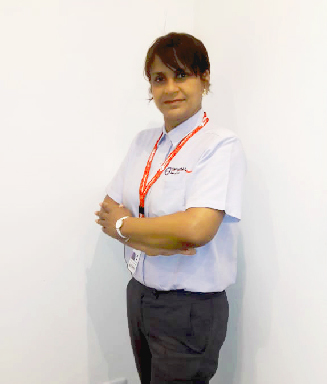 Yudaris WossStation Manager
Downloads
Some Great Reasons to Choose Us
On average, passengers and crew are in and out of the airport in 15-20 minutes. A Universal Aviation staff member will ensure a quick and smooth passage through customs and immigration.
We'll manage all the handling, permits, VIP requests, ground transportation, and catering so you can focus on enjoying Samaná.
We are located near the Sublime Samana Hotel & Residences, the Bannister Hotel & Yacht Club, and the Peninsula House, some of the most luxurious resorts in the Dominican Republic.
Services & Amenities for this Location
Featured Services & Amenities
VIP Passenger Lounge
Catering Arrangements
Ground Transportation
All Available Services & Amenities
Flight Plan Filing
Weather Briefings
Permit Coordination
Baggage Handling
Security Arrangements
Crew Hotel Arrangements
Refreshments
Catering Arrangements
Ground Transportation
Crew Lounge
Internet Access
Maintenance
Car Rental
Lav Services
Customs & Immigration
Restrooms
Air Conditioning
Oxygen Service
| Attribute | Detail |
| --- | --- |
| Airport Name | Aeropuerto Intl. El Catey-Presidente Juan Bosh |
| ICAO/IATA | MDCY / AZS |
| Location | El Catey, Samana Province, Dominican Republic |
| LAT / LON | 19°16'10″N / 069°44'13" W |
| Elevation | 12 ft |
| Magnetic Variation | 11.6°W |
| Airport of Entry | Yes – AOE |
| Hours of Operation | 24 Hours |
| Restrictions | – |
| Fuel Available | JET-A / AVGAS |
| Longest Runway | 25/07 (9843 ft x 148 ft) |
| Approaches | VOR/DME |
| Navaids | VOR/NDB |
| RVSM | Implemented |
| ACAS/TCAS II | – |
| ICAO Annex 16, Chapter II | Restrictions are in place |
| RNAV5/RNAV10 airspace | YES |
| 8.33 MHz channel spacing | Not required |
| Fire Category | CAT 3/ From 0230-1230. CAT 7 / From 1230-0230. CAT 8 / From 1230-0230 (On request with 72 hours of advance). |
| Customs | Yes |
| Slots Required | No |
| Tower Frequency | 118.350 MHz |
| Ground Frequency | 121.700 MHz |
| ATIS | 132.650 MHz |
Operational Insight Blog » Dominican Republic