Languages spoken
Spanish and English
Hours of operation
Temporary Hours: 8:00 am – 11:00 pm (effective through April 3, 2022 or until further notice)

Address
Av 65 x boulevard aeropuerto, Col. Centro CP:77600, Cozumel Qroo, Mexico.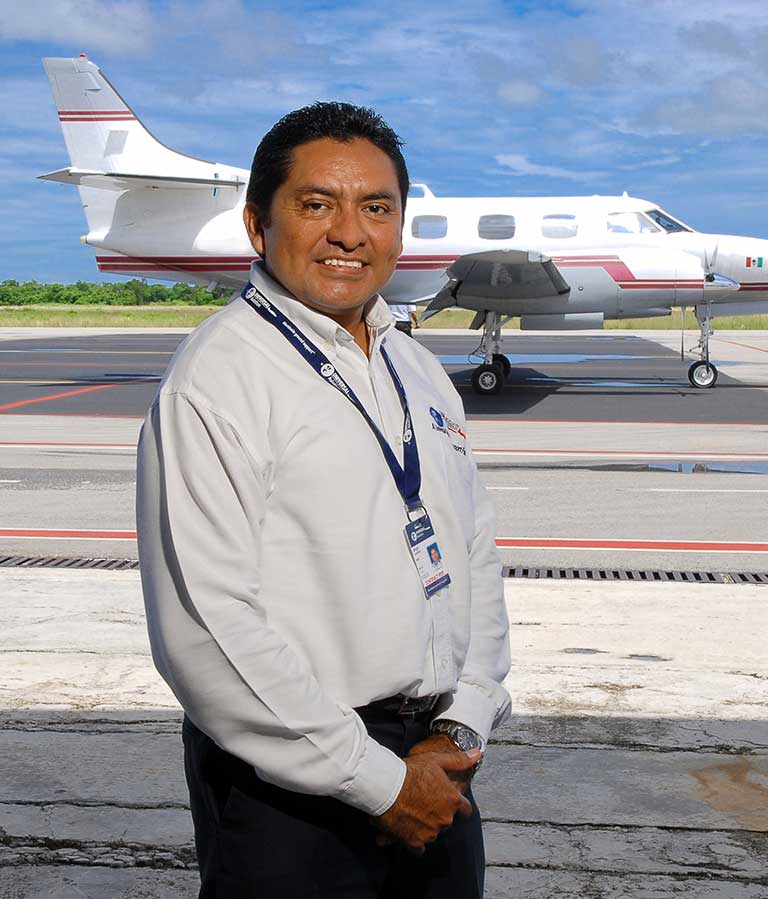 Jorge Carlos Conrado SimaStation Manager
Downloads
Some Great Reasons to Choose Us
 We always have two agents working simultaneously so crew or passengers are never left alone.
Our highly-trained team is bilingual and adheres to global safety and compliance standards.
We've established strong and long-standing relationships with airport management and local authorities.
Services & Amenities for this Location
Featured Services & Amenities
Catering Arrangements
Ground Transportation
Permit Coordination
All Available Services & Amenities
Ramp Access
Contract Fuel Available
Flight Plan Filing
Weather Briefings
Permit Coordination
Baggage Handling
Crew Hotel Arrangements
Refreshments
Catering Arrangements
Ground Transportation
Internet Access
Customs & Immigration
Restrooms
Air Conditioning
Security Arrangements: 24-Hour Advanced Notice Required.
Car Rental: Reserve Online.
Lavatory Services: 24-Hour Advanced Notice Required.
| Attribute | Detail |
| --- | --- |
| Airport Name | Cozumel International Airport |
| ICAO/IATA | MMCZ / CZM |
| Location | Cozumel, Quintana Roo, Mexico |
| LAT / LON | N20°31'19.43 / W086°55'45.40 |
| Elevation | 15 ft |
| Magnetic Variation | 000°E |
| Airport of Entry | Yes – AOE |
| Hours of Operation | Temporary Hours: 8:00 am – 11:00 pm (effective through April 3, 2022 or until further notice) |
| Restrictions | – |
| Fuel Available | AVGAS / JetA |
| Longest Runway | 23/05 (10,377 ft x 148 ft) |
| Approaches | VOR/DME NDB |
| Navaid | VORDME/VORTAC VORDME |
| RVSM | Implemented |
| ACAS/TCAS II | Required |
| ICAO Annex 16, Chapter II | No restrictions |
| RNAV5/RNAV10 airspace | Not implemented |
| 8.33 MHz channel spacing | Not required |
| Fire Category | MMCZ: 7 |
| Customs | Yes |
| Slots Required | No |
| Tower Frequency | 118.1 |
Operational Insight Blog » Mexico