MROC
Costa Rica
Juan Santamaría International Airport · San Jose
Radio frequency
131.850 MHz
Languages spoken
Spanish and English
Hours of operation
0600 – 2100 (24 hours on request)
Address
Juan Santamaría International Airport
Alajuela 8003, Costa Rica
Apartado Postal 42-4003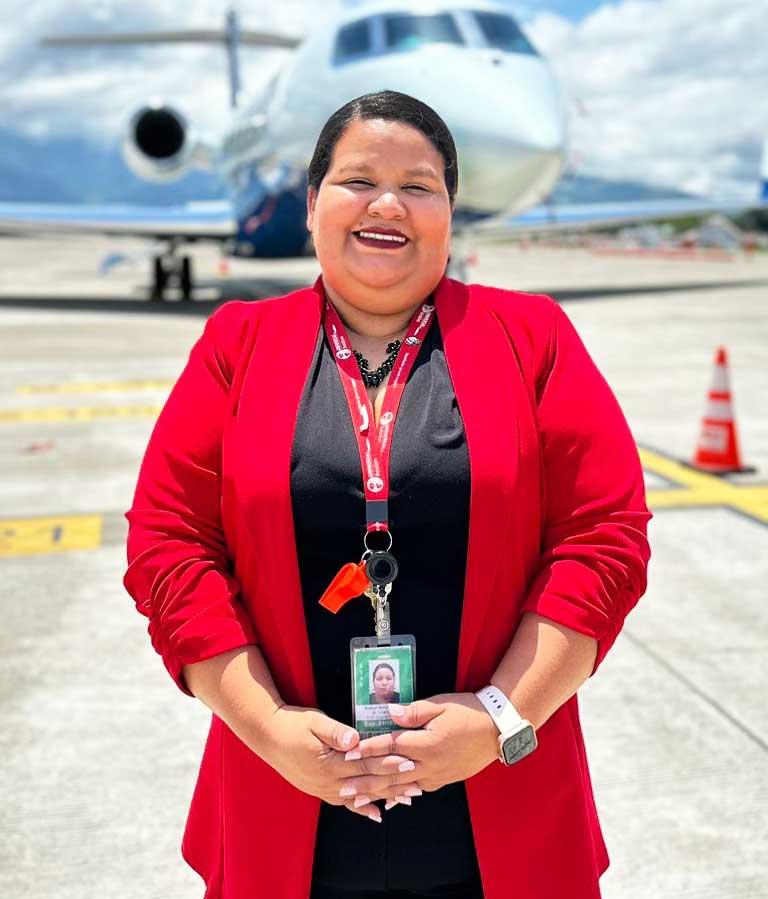 Evelyn BonillaOperations Coordinator
Downloads
Some Great Reasons to Choose Us
Awarded the Best FBO in Latin America for ADS (Universal Aviation Costa Rica) in 2021 by ProPilot Magazine.
We are an IS-BAH Stage 2 accredited ground handler who operates the country's first and only general aviation terminal (GAT) located at the airport.
We use three ground agents per operation, more than any other handler in Costa Rica, as operational safety is our top priority.
Services & Amenities for this Location
Featured Services & Amenities
VIP Passenger Lounge
Catering Arrangements
Ground Transportation
All Available Services & Amenities
Ramp Access
Flight Plan Filing
Weather Briefings
Permit Coordination
Baggage Handling
Security Arrangements
Crew Hotel Arrangements
Refreshments
Catering Arrangements
Ground Transportation
VIP Passenger Lounge
Crew Lounge
Internet Access
Maintenance
Car Rental
Lav Services
Oxygen Service
Customs & Immigration
Restrooms
Air Conditioning
| Attribute | Detail |
| --- | --- |
| Airport Name | Juan Santamaría International Airport |
| ICAO/IATA | MROC / SJO |
| Location | Alajuela Province, Alajuela, Costa Rica |
| LAT / LON | N09°59'38.0000 / W084°12'31.8800 |
| Elevation | 3022 ft |
| Magnetic Variation | 001°E |
| Airport of Entry | Yes – AOE |
| Hours of Operation | 24 hours |
| Restrictions | – |
| Fuel Available | AVGAS / JetA |
| Longest Runway | 25/07 (9879 ft x 148 ft |
| Approaches | ILS/DME VOR |
| PPR | PPR required |
| RVSM | Implemented |
| ACAS/TCAS II | Required |
| ICAO Annex 16, Chapter II | No restrictions |
| RNAV5/RNAV10 airspace | Not implemented |
| 8.33 MHz channel spacing | Not required |
| Fire Category | MROC: 9 |
| Customs | Yes |
| Slots Required | No |
| Tower Frequency | 118.6 |
| Ground Frequency | 121.9 |
| Clearance Frequency | 121.300 |
| ATIS | 127.300 |
Operational Insight Blog » Costa Rica