LFPB
France
Paris Airport-Le Bourget · Le Bourget
Radio frequency
131.785 MHz
Languages spoken
French and English
Hours of operation
0830-2030 (24 hours on request)
Address
Aéroport du Bourget, 9 Avenue de l'Europe, 93350 Le Bourget, France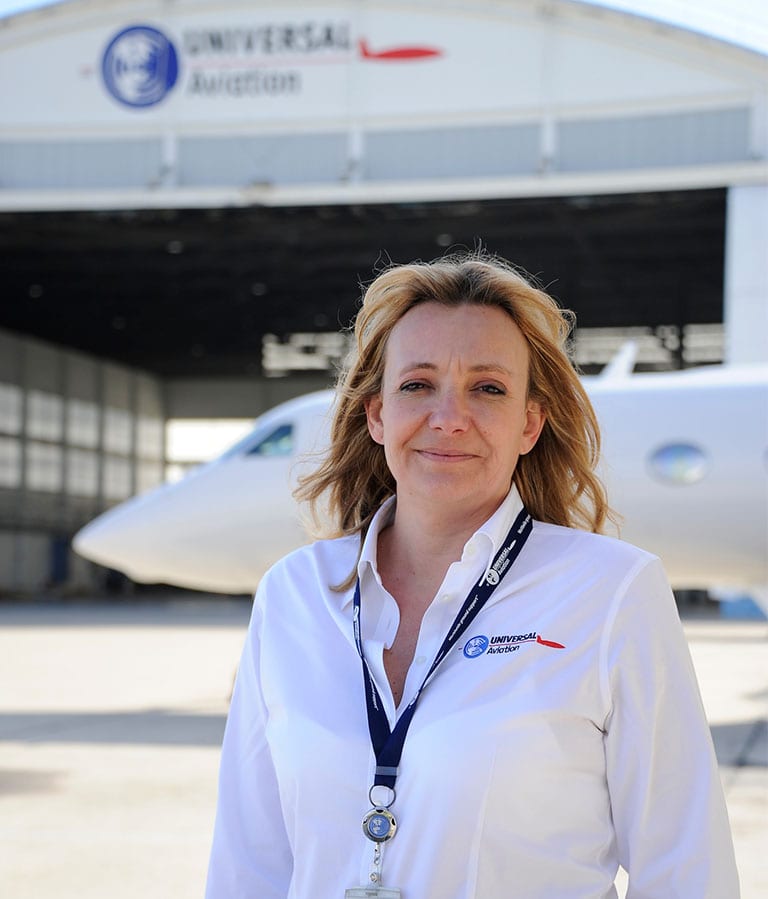 Sandrine JacksonManaging Director
Downloads
Some Great Reasons to Choose Us
On average, passengers and crew are in and out of the airport within 15-20 minutes after landing.
Experienced in managing all types of unique VIP requests. Our facilities offer a VIP passenger lounge, conference room, prayer room, restrooms, refreshments, and internet access.
At Le Bourget, we have our own private apron, heated hangar, parking areas, and GSE. We're one of two FBOs at Le Bourget with a wide-body ramp.
Customs and immigration agents are available to process all passengers and crew on board the aircraft or at the FBO to help expedite the process.
Services & Amenities for this Location
Featured Services & Amenities
VIP Passenger Lounge
Hangar
Prayer Room
All Available Services & Amenities
Flight Plan Filing
Weather Briefings
Permit Coordination
Baggage Handling
Security Arrangements
Crew Hotel Arrangements
Refreshments
Catering Arrangements
Ground Transportation
VIP Passenger Lounge
Crew Lounge
Internet Access
Conference Rooms
Hangarage
Car Rental
Lav Services
Oxygen Service
Customs & Immigration
Restrooms
Prayer Room
Air Conditioning
| Attribute | Detail |
| --- | --- |
| Airport Name | Paris–Le Bourget Airport |
| ICAO/IATA | LFPB / LBG |
| Location | Le Bourget, France |
| LAT / LON | N48°57'52.6700 / E002°26'16.8900 |
| Elevation | 220 ft |
| Magnetic Variation | 000°E |
| Airport of Entry | Yes – AOE |
| Hours of Operation | 24 hours – Restricted |
| Restrictions | Night curfew for departure |
| Fuel Available | JetA |
| Longest Runway | 25/07 (9813 ft x 148 ft) |
| Approaches | LOC VOR/DME |
| RVSM | Implemented – GPWS 6.15.4 |
| ACAS/TCAS II | All airplane with a MTOW exceeding 5,700 kg must be fitted with an TCAS II ch 7.1 in order to fly into European airspace in accordance with EEU regulation 1332/2011 |
| ICAO Annex 16, Chapter II | Restriction are in place. Chapter 2 aircraft allowed only under exceptional circumstances. |
| RNAV5/RNAV10 airspace | Yes. RNAV1 mandatory. |
| 8.33 MHz channel spacing | Required |
| Fire Category | LFPB: 8 H24 |
| Customs | Yes |
| Slots Required | No |
| Tower Frequency | 118.925 |
| Ground Frequency | 121.9 |
| ATIS | 120.000 |
Operational Insight Blog » France