Radio frequency
121.6 MHz
Languages spoken
Chinese and English
Hours of operation
24/7 hours
Address
Shanghai Hongqiao International Airport, 2550 Hongqiao Road, Changning District, Shanghai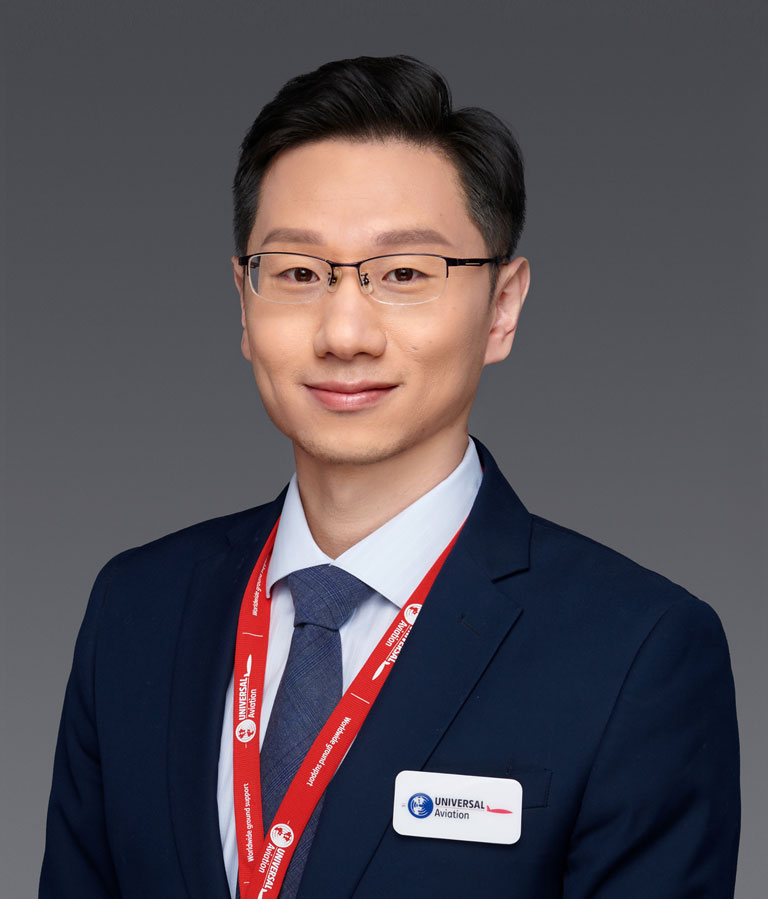 Ricky FangAssistant General Manager
Downloads
Some Great Reasons to Choose Us
On average, we can help passengers move out of the airport within 20 minutes of landing for domestic flights, and 40 minutes for international flights.
Our team is trained to the highest ground support standards, with over three decades of supporting missions across China — including business, charter, and cargo.
We're one of only a few ground support providers backed by an international Mission Management Company — Universal — and with strong relationships with local CAAs to help you accomplish all your mission requirements.
Services & Amenities for this Location
Featured Services & Amenities
Ramp Access
Ground Power Unit (GPU)
Maintenance
All Available Services & Amenities
Ramp Access
Flight Plan Filing
Permit Coordination
Baggage Handling
Crew Hotel Arrangements
Refreshments
Hangarage
Catering Arrangements
Ground Transportation
VIP Passenger Lounge
Internet Access
Conference Rooms
Maintenance
Car Rental
Lavatory Services
Oxygen Service
Customs & Immigration
Restrooms
Air Conditioning
Potable Water
Belt Loader
Ground Power Unit (GPU)
High Loader
| Attribute | Detail |
| --- | --- |
| Airport Name | Shanghai Hongqiao International Airport |
| ICAO/IATA | ZSSS / SHA |
| Location | Shanghai, China |
| LAT / LON | 31.198289 / 121.334444 |
| Elevation | 10 ft |
| Magnetic Variation | 005°W |
| Airport of Entry | No |
| Hours of Operation | 0900-2359 LT ALL WEEK OPEN TO ALL OPS |
| Restrictions | – |
| Longest Runway | 36R/18L (11155 ft x 148 ft) |
| Approaches | ILS VOR/DME |
| Customs | Yes |
| Slots Required | Yes |
| PPR | Yes |
| Tower Frequency | 118.1 |
| Ground Frequency | 121.6 |
| Clearance Frequency | 121.75 |
| ATIS | 132.25 |
Operational Insight Blog » China